Our Mission
To provide mission-critical facility preparedness for our government and corporate tenants in addition to offering investment clients and partners the highest degree of integrity, transparency, and performance in preserving and growing their investment.
About
Privately owned and based in the United States, The Salus Group of Companies include Salus Federal Properties, Salus Government Properties, Salus Property Investments, and Salus Tactical Solutions. Salus has provided real estate investment programs and services focused exclusively on government and credit tenant properties since 1998. Salus owns and currently manages more than 1,500,000 sq. ft. of build-to-suit, mission-critical, secure US government and select Fortune 500 leased properties. Government tenant agencies include the Department of State, the Dept of Homeland Security, Justice Department, Federal Bureau of Investigation (FBI), the Dept of Defense, and others.
Ownership of these assets allow us to provide institutions, qualified high-net-worth individuals, and family offices with unique real estate investment opportunities with consistent monthly distributions of income as well as long-term appreciation of properties not usually available to the general public. Through rigorous underwriting and stringent due diligence, we have acquired a portfolio valued at approximately $500 million with average annual cash-on-cash returns of 10.5% and annual total returns in excess of 13%.
All of our facilities exceed 50,000 rentable sq. ft. with 10, 15, and 20-year leases guaranteed by the United States Federal government and Fortune 500 companies. Mission-critical, build-to-suit, secure facilities typically realize higher lease renewal rates due to security requirements and prohibitive relocation costs. In fact, build-to-suit, mission-critical, secure US Government Services Administration (GSA) facilities offer the highest retention rate of any type of commercial real estate asset.
---
Investment Client Relationship
Salus takes great pride in operating in a trustworthy, transparent manner with a passion for doing what's right and exceeding client expectations. This openness, along with attentive service, extensive experience, and above average earnings and capital appreciation, has translated into a sterling reputation as well as historical above average results for individuals and institutions.
Aligned Interests
As an investor in each property, Salus typically provides 10-20% of the equity required for each acquisition. In addition, our principals' and family's capital are invested alongside investors on the same basis.
Added Peace of Mind
Salus does not handle client funds, collect rents, or make disbursements. To ensure transparency, receipt and disbursements of client funds, rents, operating expenses and income distributions are handled by Colliers International Asset Services, LLC, Government Asset Management Services on a fixed fee basis. Each Salus entity/property is covered by Collier's $25,000,000 insurance policy that covers loss, theft, and fraud. Each investment entity is also named as an additional insured on this policy.
Management Fees
Asset Management: Asset Management fees are charged at a fixed rate of between one-eighth of one percent (.125%) and a maximum of one-quarter of one percent (.25%) of acquisition cost. Unlike funds, this amount is fixed for the life of each lease. Performance data is calculated after all administrative fees and costs.
---
The Salus Advantage: Experience
Operational and development expertise play a key role in awarding GSA build-to-suit contracts and leases. Typically, procurement bids are awarded based on best-value proposals and development experience, rather than the lowest price. The Salus Group not only understands the complex structures and regulations associated with GSA properties, but has also established a broad network of GSA contractors, developers, and financiers to facilitate and expedite the process.
This experience and adherence to the highest standards of business conduct have led to lasting success and long-term relationships with clients, business partners, suppliers, and employees. Our superior performance directly parallels an exceptional team, many of whom enjoy well-established reputations within the government community and with the clients we support. (See Company Ethics)
Our CEO
Founder of Salus , James M. Jacobson, Jr., brings more than 30 years of real estate and operational experience to the company and a demonstrated track record of acquiring, developing, and operating properties throughout the United States, focusing on the GSA real estate sector for the last 20 years.
Previously, Mr. Jacobson served as managing director of a privately held family real estate investment enterprise. In this role, he was responsible for acquisition and disposition of all properties nationally, as well as oversight of value-added renovations of office properties and private estates. Mr. Jacobson also spent 10 years in venture capital, focused primarily on the biotechnology sector.
Mr. Jacobson is a member of numerous real estate organizations, including the National Council of Real Estate Investment Fiduciaries (NACREIF), the Federal Real Property Association (FRPA), the Federal Developer Association (FDA), the National Association of Government Contractors (NAGC), the Institute of Real Estate Management (IREM), and the Building Owners & Managers Association (BOMA). He additionally serves as a member of the International Association of Financial Engineers and the Society for Judgment and Decision-Making.
Throughout his career, Mr. Jacobson has served on the board of directors for various organizations, including the Santa Barbara County Sheriff's Council, American Committee for the Weizmann Institute of Science, American Technion Institute of Technology, Technion 2000 (founder and past president), and the Santa Barbara Polo & Racquet Club (past president). He is a former Trustee of Providence Day School and currently serves as a member of the Board of Directors for the Charlotte Mecklenburg Police Foundation and is the past President of the Charlotte Mecklenburg District Attorney's Foundation.
---
The Salus Portfolio
The Salus Group currently owns and operates over one million square ft. of mission-critical, build-to-suit GSA properties. The portfolio primarily houses intelligence, homeland security, and defense agencies as well as select Fortune 500 companies. Scroll down to see our current portfolio of properties.
---
GSA Real Estate
While the amount of General Services Administration (GSA)-owned space has remained relatively static for the past 50 years, GSA-leased space has increased from 46 million sq. ft. to 178 million sq. ft. during the same period. By investing in GSA and Fortune 500 properties with long-term leases, high lease renewal rates, and the tax advantages of direct real estate ownership, Salus recognizes steady, long-term risk-adjusted returns, with distributions paid monthly. The Salus program is not a fund. Each property performs on its own merits and is not co-mingled with other properties.
Currently, there are 8,137 GSA-leases across the continental United States, averaging 23,342 rentable sq. ft. each. Salus targets mission-critical properties over 40,000 sq. ft. with lease terms that are 10 years or more and are backed by the full faith and credit of the US government (the same guaranty as a Treasury note, a general obligation of the Federal government). It also targets NNN mission critical Fortune 500 facilities.
Salus typically holds a property for 5-10 years. All acquisitions are underwritten through at least one lease renewal and one refinance. Salus also continually analyzes each property for market opportunities relative to that asset. Some companies have sold in 4 years after acquisition, and others have enjoyed lengthy lease renewals.
For the last 15 years, annual cash-on-invested cash return from the portfolio has averaged 10.32% with an average total annual return, before appreciation, of 13.07% (all performance data compiled by Colliers International). This does not include profits derived from the sale of properties.
---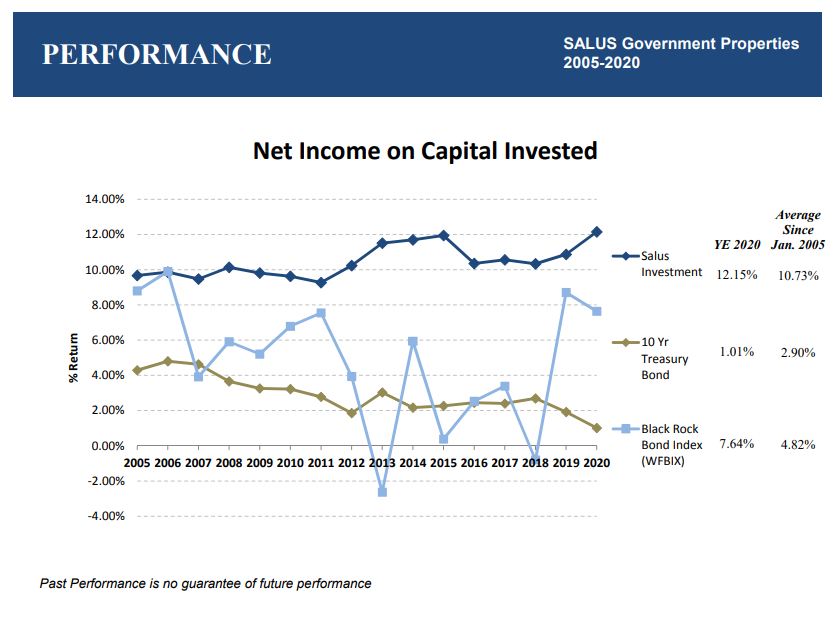 (Past performance is not a guarantee of future performance. The analysis provided by Colliers International.)
The sustained performance of our investment programs has helped Salus earn high marks from both partners and investors. Since 1998, Salus investments have recognized average monthly distributed preferred returns of 7.5%.
In addition, our portfolios' cash-on-invested cash return has averaged 10.32% annually with average total returns, before appreciation, of 13.07% per year. (Figures compiled by Colliers International.)


---
Salus Federal Properties (SFP) is an owner/operator of mission-critical, secure, build to suit facilities, leased to various agencies of the US Federal Government. SFP also provides asset management services for its co-investor/partners and acts as the general partner and carve-out guarantor for its partnerships and lenders. The company also owns and operates select Fortune 500 facilities that have unique mission-critical criteria.
Salus Government Properties (SGP) is an asset management company primarily focused on Federal agencies involved in the areas of homeland security, intelligence, and cybersecurity.
Salus Property Investments (SPI) is an owner/operator of legacy GSA-leased mission-critical build to suit, secure facilities. Its day-to-day operations are managed by Salus Federal Properties.
Salus Tactical Solutions (STS) provides operational threat and security risk assessment services for mission-critical government and at-risk private sector facilities.


---
Code of Ethics and Business Conduct
Salus Federal Properties "SFP"
Salus Government Properties "SGP"
Salus Property Investments "SPI"
Salus Tactical Solutions "STS"
The Salus Group of Companies
7702 East Doubletree Ranch Rd. Suite 300
Scottsdale, Arizona 85258
(704) 333-4340
www.SalusGroup.US
The Salus Group strives to apply the highest legal, moral and ethical principles in every aspect of business conduct.
At its core, the Code of Ethics and Business Conduct expresses the fundamental values that must drive our behavior. Living by a set of core values guides the way we treat each other and how we make business decisions. These shared values are vital to earning and maintaining trust with and respect from our co-workers, customers, stakeholders, government officials and the public at large. We regard the quality of the services we provide our customers and our integrity in our business dealings among our most valuable assets.
Legal, moral and ethical behavior is a cornerstone to our Company's foundation and it remains a vital part of our corporate culture and the way we do business. I thank you in advance for your part in maintaining our high legal, moral and ethical standards.
View the Code of Ethics and Business Conduct
James M. Jacobson Jr
Chief Executive Officer
The Salus Group of Companies
---
Investment Programs
The Salus Group's formula for success is simple and steadfast. Maintain a strong commitment to excellence. Create an environment designed to achieve and to reward hard work. Always put our client's needs first. We invite you to be part of the equation.
Salus Federal Properties, LLC
7702 East Doubletree Ranch Rd. Suite 300,
Scottsdale, Arizona 85258
www.SalusGroup.US
Phone: 704-333-4340

For more information, please submit the form.